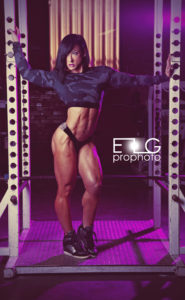 Jodi Leigh Miller is a graduate from The University of Texas at Austin with a BA in English and a lifetime secondary teaching certification in the state of Texas for grades 6 through 12.  Jodi taught ninth-grade English for six years and later became an instructional leader for an educational reform organization, The New Teacher Project, where she trained and managed new teachers in the public schools.
Jodi has competed in multiple divisions of the bodybuilding industry, including Figure, Women's Physique, and Bodybuilding.  She began her competitive career in The Galaxy Federation, which ran an obstacle course and bikini competition. After 15 national-level NPC shows, she earned her professional status in the IFBB (International Federation of Bodybuilding and Fitness) in 2015 and has since placed in the top five at the IFBB level in four out of her six pro shows.  Previously, she won the lightweight bodybuilding division of the 2007 NPC Team Universe and participated in the IFBB World Championships in Spain later that same year.  She earned the Ms. Natural Olympia title as a professional competitor in the PNBA organization in 2011 and 2012.  She has also broken state and national powerlifting records in the APF (American Powerlifting Federation) and competed in the 2014 WPC Championships, where she set new world records for her division, including a 330-lb deadlift.
While her background is in education and management, she currently runs her own posing coaching and personal training business. She is also simultaneously working on her Masters of Fine Arts in Writing via a low-residency program at Pacific University.
Please follow Jodi Miller on Instagram @jodileigh, on Facebook www.facebook.com/JodiLeighProAthlete, and on Twitter @jodileigh2128.